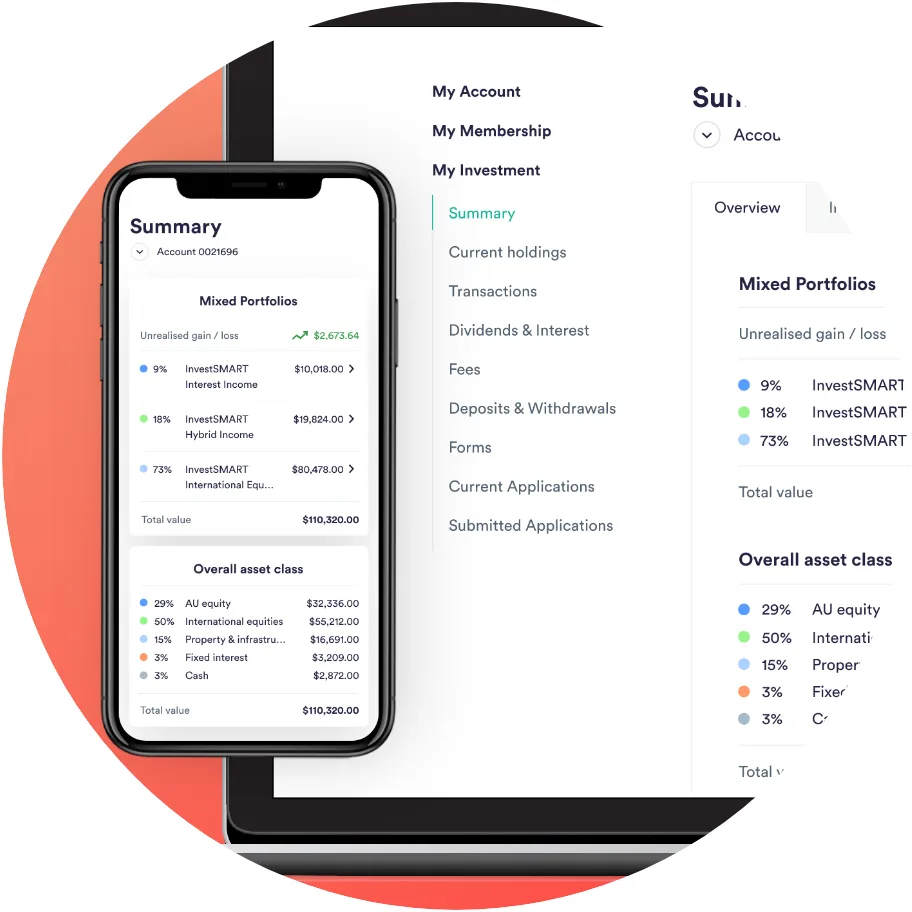 Investing in
Exchange Traded Funds
(ETFs) made easy
We help you build a low-cost diversified investment portfolio using ETFs
---
A
great team
with
a proven track record
Our professionally managed investment portfolios consistently outperform most of our peers. Download our
Investor guide
---
Australia's best known finance experts Paul Clitheroe, Effie Zahos & Alan Kohler head up our Investment Committee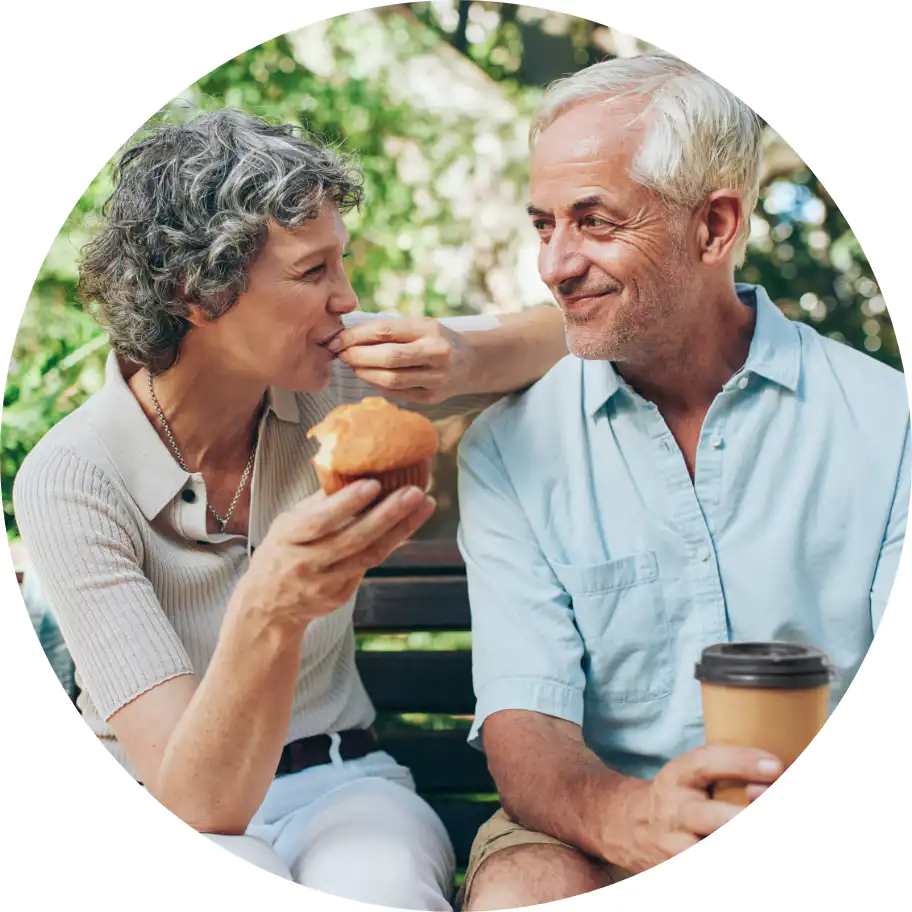 Capped management fees.
An
Australian
first
Simple & transparent
capped fees
from $2 a week capped at $451 a year, no matter how much you invest
---
Grow your money, not your fees. Our
special report
explains how fees can destroy your wealth
From helping you to invest in a portfolio of ETFs to professionally managing your portfolio ongoing, we've got you covered.
More on how it works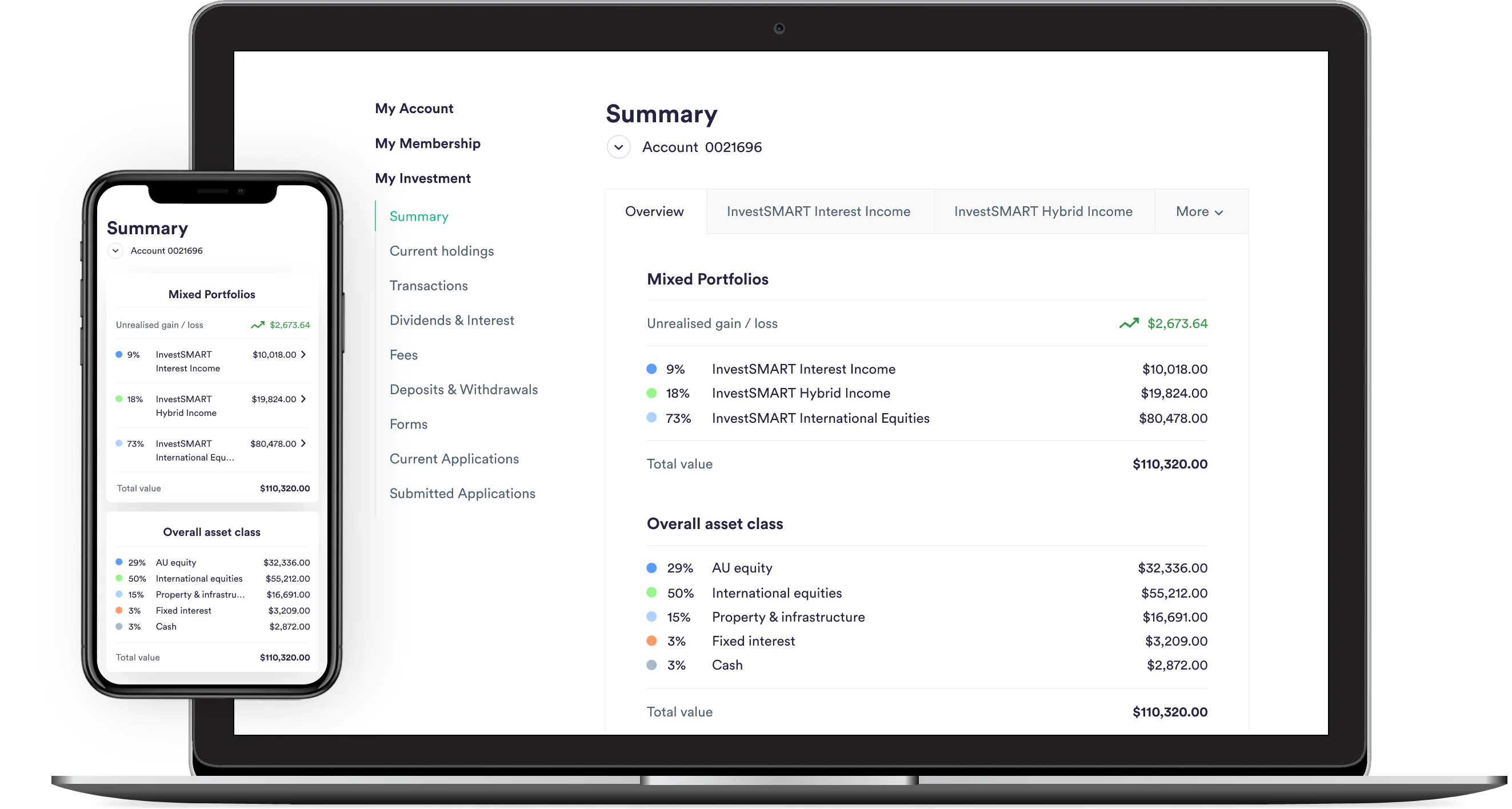 1. Find the right portfolio for you
Select from our range of diversified, or single asset class portfolios of Exchange Traded Funds (ETF).
---
2. Open your Professionally Managed Account (PMA)
Setup an individual, company, trust or SMSF account.
---
3. Customise & invest
Set up regular contribution or income settings.
---
4. Tax reporting & monitoring
24x7 monitoring & tax reporting.
Our capped fee difference
In the short term, you won't see the difference of fees, but compound the difference over time & the gap grows.
More on capped fees
{{'Average of ' + selectedModel.peersCount + ' peer funds^'}}
{{selectedModel.benchmark.name}}
Growth of $10,000 as at {{ selectedModel.modelPortfolioPerformancesLastDate }}
Performance to {{ selectedModel.returnDate | date:'dd MMMM yyyy' }}
1 Year
3 Year p.a
5 Year p.a
{{ selectedModel.name }}#
{{ selectedModel.stats.returns.adjReturn1Month | percentage:2:1:'N/A' }}
{{ selectedModel.stats.returns.adjReturn3Month | percentage:2:1:'N/A' }}
{{ selectedModel.stats.returns.adjReturn6Month | percentage:2:1:'N/A' }}
{{ selectedModel.stats.returns.adjReturn1Year | percentage:2:1:'N/A' }}
{{ selectedModel.stats.returns.adjReturn2Year | percentage:2:1:'N/A' }}
{{ selectedModel.stats.returns.adjReturn3Year | percentage:2:1:'N/A' }}
{{ selectedModel.stats.returns.adjReturn4Year | percentage:2:1:'N/A' }}
{{ selectedModel.stats.returns.adjReturn5Year | percentage:2:1:'N/A' }}
{{ selectedModel.returnInception | percentage:2:100:'N/A' }}
Avg of {{ selectedModel.benchmark.peers.peerCount }} Peers^
{{ selectedModel.benchmark.peers.returns.return1Month | percentage:2:1:'N/A' }}
{{ selectedModel.benchmark.peers.returns.return3Month | percentage:2:1:'N/A' }}
{{ selectedModel.benchmark.peers.returns.return6Month | percentage:2:1:'N/A' }}
{{ selectedModel.benchmark.peers.returns.return1Year | percentage:2:1:'N/A' }}
{{ selectedModel.benchmark.peers.returns.return2Year | percentage:2:1:'N/A' }}
{{ selectedModel.benchmark.peers.returns.return3Year | percentage:2:1:'N/A' }}
{{ selectedModel.benchmark.peers.returns.return4Year | percentage:2:1:'N/A' }}
{{ selectedModel.benchmark.peers.returns.return5Year | percentage:2:1:'N/A' }}
{{ selectedModel.benchmark.peers.returns.returnSinceInception | percentage:2:1:'N/A' }}
Excess to Peers
{{ selectedModel.stats.returns.adjReturn1Month && selectedModel.benchmark.peers.returns.return1Month ? selectedModel.stats.returns.adjReturn1Month - selectedModel.benchmark.peers.returns.return1Month : null | percentage:2:1:'N/A' }}
{{ selectedModel.stats.returns.adjReturn3Month && selectedModel.benchmark.peers.returns.return3Month ? selectedModel.stats.returns.adjReturn3Month - selectedModel.benchmark.peers.returns.return3Month : null | percentage:2:1:'N/A' }}
{{ selectedModel.stats.returns.adjReturn6Month && selectedModel.benchmark.peers.returns.return6Month ? selectedModel.stats.returns.adjReturn6Month - selectedModel.benchmark.peers.returns.return6Month : null | percentage:2:1:'N/A' }}
{{ selectedModel.stats.returns.adjReturn1Year && selectedModel.benchmark.peers.returns.return1Year ? selectedModel.stats.returns.adjReturn1Year - selectedModel.benchmark.peers.returns.return1Year : null | percentage:2:1:'N/A' }}
{{ selectedModel.stats.returns.adjReturn2Year && selectedModel.benchmark.peers.returns.return2Year ? selectedModel.stats.returns.adjReturn2Year - selectedModel.benchmark.peers.returns.return2Year : null | percentage:2:1:'N/A' }}
{{ selectedModel.stats.returns.adjReturn3Year && selectedModel.benchmark.peers.returns.return3Year ? selectedModel.stats.returns.adjReturn3Year - selectedModel.benchmark.peers.returns.return3Year : null | percentage:2:1:'N/A' }}
{{ selectedModel.stats.returns.adjReturn4Year && selectedModel.benchmark.peers.returns.return4Year ? selectedModel.stats.returns.adjReturn4Year - selectedModel.benchmark.peers.returns.return4Year : null | percentage:2:1:'N/A' }}
{{ selectedModel.stats.returns.adjReturn5Year && selectedModel.benchmark.peers.returns.return5Year ? selectedModel.stats.returns.adjReturn5Year - selectedModel.benchmark.peers.returns.return5Year : null | percentage:2:1:'N/A' }}
{{ selectedModel.returnInception && selectedModel.benchmark.peers.returns.returnSinceInception ? selectedModel.returnInception/100 - selectedModel.benchmark.peers.returns.returnSinceInception : null | percentage:2:1:'N/A' }}
Trusted by thousands of Australians